Bambooflat Sub Division
This Sub-division was earlier named Middle Andaman Sub-division. Now it has been named as Bambooflat Sub-division. PS Baratang and Kadamtala was also functioning in this Sub-division but now it has been allocated to newly formed Sub-Division Rangat. Bambooflat Sub Division covers the areas mainly Bambooflat, North Bay, Ograbraj, Chouldhari, Tirur, Ferrargunj, Jirkatang etc. The areas are accessible by road. Police Station Bambooflat is located North of Port Blair whereas the Police Stations Ograbraj is located North West of Port Blair. The Maximum areas of Police Station Bambooflat and Ograbraj is designated as Jarawa Reserve Area. The Police Station Humfrigunj has recently been inducted into Bambooflat Sub-division. It was earlier functioning under South Andaman Sub-division.


Bambooflat Police Station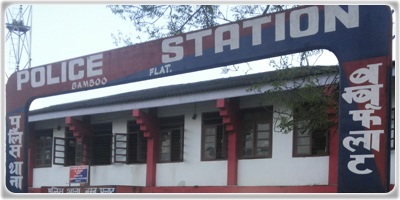 About the Bambooflat Police Station
Phone No: 03192-258411
The Police Station is in existence since 1945. In the year 1968, Bambooflat was made an Out Post under Police Station, Wimberly Gunj. Again in the year 1992 the Police Station shifted to the present location as Police Station Bambooflat. The Police Station, Bambooflat belonging to erstwhile jurisdiction of South Andaman sub-division was included in Middle Andaman Sub-Division by the Notification No. 6-62-Home dated 07th September 1993 and subsequent amendment by the Notification No. 181/92/6-62/92 Home Dated 18th December, 1992. Further vide Notification No/2013.FNo.4-87/2012-Home dated 18th March, 2013 this Police Station covers under SDPO, Bambooflat. The Police Station Bambooflat is functioning from the present location since 22.11.1992 and is located near Bambooflat Jetty i.e. side-by-side on an area of 0.19 hectors bearing Survey No. 615 under Ferrargunj Tehsil.
The Police Station has two Out Posts viz OP Wimberly Gunj & OP Mile Tilak and one JPP Jirkatang under its jurisdiction. There are 42 villages are falling under the jurisdiction of PS Bambooflat out of these 19 villages are directly under control of PS Bambooflat. The jurisdiction of Police Station, Bambooflat is spread over about 70 km North, 01 Km Southwest, 24 km Southeast, 10 Km North-East, 11 Km East from the P.S. Building. The total area under this Police Station is around 102 Sq. Km of which 85-90% is Forest area.