Bambooflat Sub Division
This Sub-division was earlier named Middle Andaman Sub-division. Now it has been named as Bambooflat Sub-division. PS Baratang and Kadamtala was also functioning in this Sub-division but now it has been allocated to newly formed Sub-Division Rangat. Bambooflat Sub Division covers the areas mainly Bambooflat, North Bay, Ograbraj, Chouldhari, Tirur, Ferrargunj, Jirkatang etc. The areas are accessible by road. Police Station Bambooflat is located North of Port Blair whereas the Police Stations Ograbraj is located North West of Port Blair. The Maximum areas of Police Station Bambooflat and Ograbraj is designated as Jarawa Reserve Area. The Police Station Humfrigunj has recently been inducted into Bambooflat Sub-division. It was earlier functioning under South Andaman Sub-division.


Ograbraj Police Station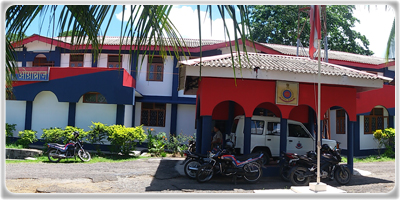 About the Ograbraj Police Station
Phone No: 03192-224934
The Police station is located on the Andaman Trunk Road at a distance of about 25 km from Port Blair and 28 km from sub-Divisional Head Quarter, Bambooflat. This Police Station is covering vast jurisdiction scattered in 23 villages with an approximate population of 37134 representing Tamil, Telugu, Bengali, Bhatu, Malabar Muslim and Ranchi community. Three Out Post namely O.P. Ferrargunj, O.P. Tirur, O.P. Dundus Point and 03 JPPs namely JPP Tirur No.4, JPP Tirur No.1A and JPP Hazaribag are falling under this Police Station. Earlier this Police Station was functioning at Dundus Point and on 09th September 2013 the Police Station was shifted to this Existing building of Ograbraj.