Havelock Sub-Division
This sub-division has also been newly formed. Earlier its jurisdiction was under South Andaman Sub-division. Havelock Sub Division consist of Neil Island, Havelock and Little Andaman (Hut Bay). Neil and Havelock Islands are located about 19-20 KMs to the North East of Port Blair and are accessible by ship services. The Police Station Hut Bay is located in Little Andaman which is about 100 KMs South of Port Blair.


Havelock Police Station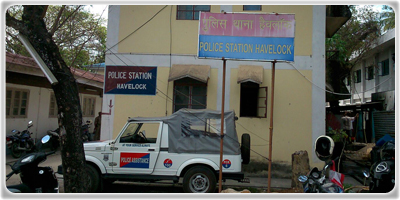 About the Havelock Police Station
Phone No: 03192-282405
This PS is situated on an Island at a distance of about 45 KM from Port Blair towards East and the area is about 113.92 Sq. Km. There is ferry services available on every day from Port Blair to this Island. Prior to 26th March 2004 this PS was functioning as Out Post under PS Pahargaon. One Out Post namely Radha Nagar and other LOP namely Strait Island is functioning under this PS. There is a world famous sea beach, Radha Nagar of this Island. Foreigners & Indians tourist are coming daily to this Island for seeing the natural beauty of Island. Elephant beach also main attraction for Snorkeling and Scuba Diving for visitors. Havelock Island has now become one of the main attraction of A& N Islands for visiting tourists and VVIP/VIP due to its scenic beauty, beautiful beaches. The total population of this Island is approximately 8500, which mainly consists of Bengali settlers who were settled under the colonization/rehabilitation scheme. They have been allotted 5/5 Hectr. Of paddy and hilly land free of coast from the Govt. of India at the time of their settlement. Apart from them, labourers of Forest departments, APWD, Agriculture, Electricity and other departments, Private Mazdoors are also residinging here. There are total 09 villages namely Govind Nagar, Shyam Nagar, Vijay Nagar, Radha Nagar, Krishna Nagar, Gandhi Nagar, Kala Patter are falling under this PS and 01 village under Strait Island. The other surrounding Island under this PS are Lawrence Island, Peal Island, North-West Island, Outrum Island, English Island and Henry Lawrence. All these Islands are un-inhabited except Lawrence Island where some forest labourers are residing. All these Island including Havelock have plenty of commercial and non-commercial forest products. In this Island anti poaching operation are the main activity by Police Personnel.