Havelock Sub-Division
This sub-division has also been newly formed. Earlier its jurisdiction was under South Andaman Sub-division. Havelock Sub Division consist of Neil Island, Havelock and Little Andaman (Hut Bay). Neil and Havelock Islands are located about 19-20 KMs to the North East of Port Blair and are accessible by ship services. The Police Station Hut Bay is located in Little Andaman which is about 100 KMs South of Port Blair.


Neil Island Police Station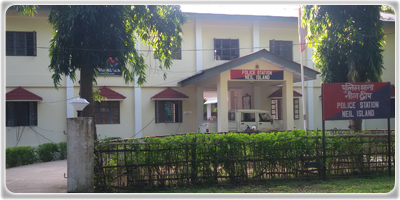 About the Neil Island Police Station
Phone No: 03192-282602
Neil Island is located in a separate Island, which is situated at a distance of 37 KMs from Port Blair in North East direction and 22 KMs from PS Havelock, having area of 18.91 Sq. KM. This Island is also accessible by Ferry Boats from Port Blair, Rangat Bay, Long Island and Havelock. Police Station Neil Island has started functioning since 11.02.2011. Prior to this, it was an Out Post under the Jurisdiction of Police Station Havelock. The approximate population under the jurisdiction is about 3500 most of them are Bengali community have settled here under rehabilitation scheme. Mostly migrated from the erstwhile East Pakistan, who were bought in 1969 under the colonization scheme. A few families of Tamil & Ranchi communities have later settled here. Most of the population are engaged in cultivation. The Island is known for cultivation of vegetables which are exported to Port Blair and other Islands. There are five villages namely Neil Kendra, Bharatpur, Laxmanpur, Sitapur and Ram Nagar. Since Neil Island is emerging as a major tourist attraction with proximity with Havelock Island. The arrivals of tourist have increased phenomenally. Famous of sea beaches, Sun Set Point, Sea Glass water boats ride to see corrals and fishes, Snorkeling and Scuba Diving are main attraction for visitors.