Havelock Sub-Division
This sub-division has also been newly formed. Earlier its jurisdiction was under South Andaman Sub-division. Havelock Sub Division consist of Neil Island, Havelock and Little Andaman (Hut Bay). Neil and Havelock Islands are located about 19-20 KMs to the North East of Port Blair and are accessible by ship services. The Police Station Hut Bay is located in Little Andaman which is about 100 KMs South of Port Blair.


Hutbay Police Station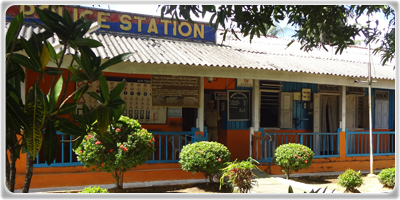 About the Hutbay Police Station
Phone No: 03192-284208
The Police Station Hut Bay is located at a distance of about 66 Nautical miles from Port Blair towards south and only accessibly by sea / air Route. The jurisdiction of this Police Station covers an area of 777 Sq. Kms consisting of seven villages are Hut Bay, Netaji Nagar, R.K. Pur, Rabindra Nagar & Vivekananda Pur and 2 villages namely Harminder Bay & Dugong Creek are tribal areas. Harminder Bay village is located at a distance of about 09 KM south from PS Hut Bay inhabited by Nicobarese tribes. The other village namely Dugong Creek is located at a distance of about 40 Kms from PS Hut Bay and inhabited by Onge tribes. These villages are populated under various rehabilitation settlement schemes. Besides there is population from almost all the states of union of India but the majority of people belongs to Bengali community. The total population of Little Andaman is around 30,000-35,000. Most of the population are engaged in cultivation. The Island is known for cultivation of vegetables which are exported to Port Blair and Car Nicobar Island. Two main Industries are Coconut powder factory & Palm Oil factory, Palm plantations has been done by forest department Here, main attraction are Butler Bay Beach, Kalla Pahar (Natural swimming pool), Water fall, South way for visitors.